Dear Golf Event Planner,

Let's face it there is no shortage of courses to hold your golf event in the state of Wisconsin… BUT, I assure you, there are none that will do a better job of providing your group with a fun, enjoyable golf experience and a "can-do" attitude of service to back it up. That is why University Ridge is the most popular choice for tournaments and outings. Whether the outing is for client appreciation, a 144 player charity tournament, 16 guys on a golf getaway or just a company fun day, we work hard to ensure you're completely satisfied. More and more corporations, associations and private groups choose us each year and return to University Ridge again and again! Learn more about University Ridge and its history.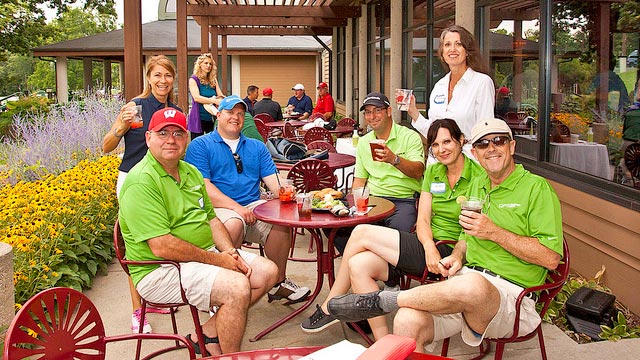 The Premier Public Golf Course in the Madison Area
The world-renowned Robert Trent Jones Jr. golf course plays to all skill levels and builds great desire and challenge in its players. In 2011 University Ridge was rated the #1 golf course in Wisconsin by Golflink. It has also been rated the Best Golf Course in Madison an astounding fifteen times by Madison Magazine. Learn more.
"We chose University Ridge to host our client appreciation golf outing because we consider it the finest public golf facility in the Midwest. We want to provide our clients with an outing that we know they're going to enjoy in every possible way. The scenery is breath taking, and the staff always does a fantastic job of making our clients feel right at home."
Mike Laskis, Foley & Lardner
Flexible (And Affordable!) Event Packages
Our golf outing packages are designed with your needs in mind. From the very beginning of the planning stages we offer great food choices, customized gift options, and competitive rates to make your golf outing completely unique. Our flexibility even extends towards tee off times, shotguns for 40 players or more, twilight golf outings, and even weekend or holiday events. University Ridge is a non-member facility which gives us the ability to cater to golf outings better than anyone else in the area.
You're in Charge, But You Can Still Have Fun Too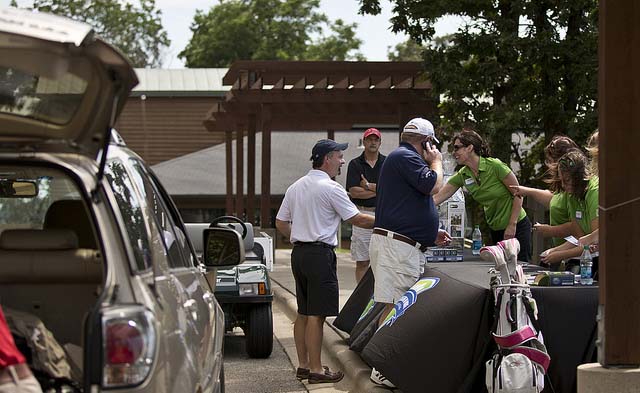 Being the coordinator of your event doesn't mean that you can't have a good time with the rest of your group. Our courteous staff will help you with all the details on the day of your event. Every member of our team is driven to make sure that your event is a success. We will take care of everything from the moment you walk in the door until the event is over. This includes preparing personalized bag tags, setting up the dining area or outdoor pavilion to your specifications, setting proximity markers and signs where you would like them on the course, directing players to their starting holes, and much more. Our staff is your staff. Sit back and enjoy, and let us do what we do best.
"Our Golf Event is not only an opportunity for our organization to raise funds for valuable community services, it's also a chance for us to meet with corporate leaders that come out to participate. University Ridge really makes it a fun event for everyone involved!"
Molly Kelly, American Red Cross
GPS Equipped Golf Cars
Our golf cart fleet is equipped with Textron Fleet Management software. Textron will enhance your guests overall golf experience with new scoring features, more sponsor opportunities, and personalized messages, all from your golf cart! Textron will also allow you to locate certain golfers, send messages, or notify groups of inclement weather. The Live Tournament Leaderboard will keep everyone engaged in the event! Learn more about Textron GPS Software.
Respite from the Hustle and Bustle of Daily Life
The only noise you will likely hear at University Ridge is that from the abundant wildlife and the cheers of joy from your delighted guests! The course is located on a magnificent piece of property on the southwest side of Madison, and your players will agree that it is well worth the short drive. We can be your hidden gem! Picture yourself playing a course totally submerged in nature yet just minutes from downtown.
"Our group has been at University Ridge for the past three years, and have enjoyed every moment. The Golf Course is run very professionally and all employees are very customer oriented"
Carl Hansonnson
Bar and Outdoor Pavilion